It's no secret: technology is the engine of account-based marketing.
While ABM is a strategy, the accelerated interest is due to the fact that technology makes executing ABM today far easier than yesteryear. We've moved from printed address labels and self-addressed stamped envelopes to marketing automation and programmatic advertising.
Three ABM Tools Needed For An Effective Campaign
Now that the technology has advanced, it's difficult to know where to start. Let's unpack the basics of what you need in an ABM tech stack.

The process of executing ABM takes 3 critical steps:

1. Account Discovery & Organization

What are ideal fit accounts that should be in your Target Account tool (within HubSpot) and what Tiers should each account be in?
2. Account Activation
These are the things that you do to get your brand and solutions in front of these accounts and build relationships.
3. Account Reporting

This is how you see progress from first impressions to closed deals.
You can find out more about how to implement these steps in our whitepaper on Demystifying ABM.
In the graphic below, you can see an overview of how we see the critical components of an ABM technology stack that contribute to each of these steps.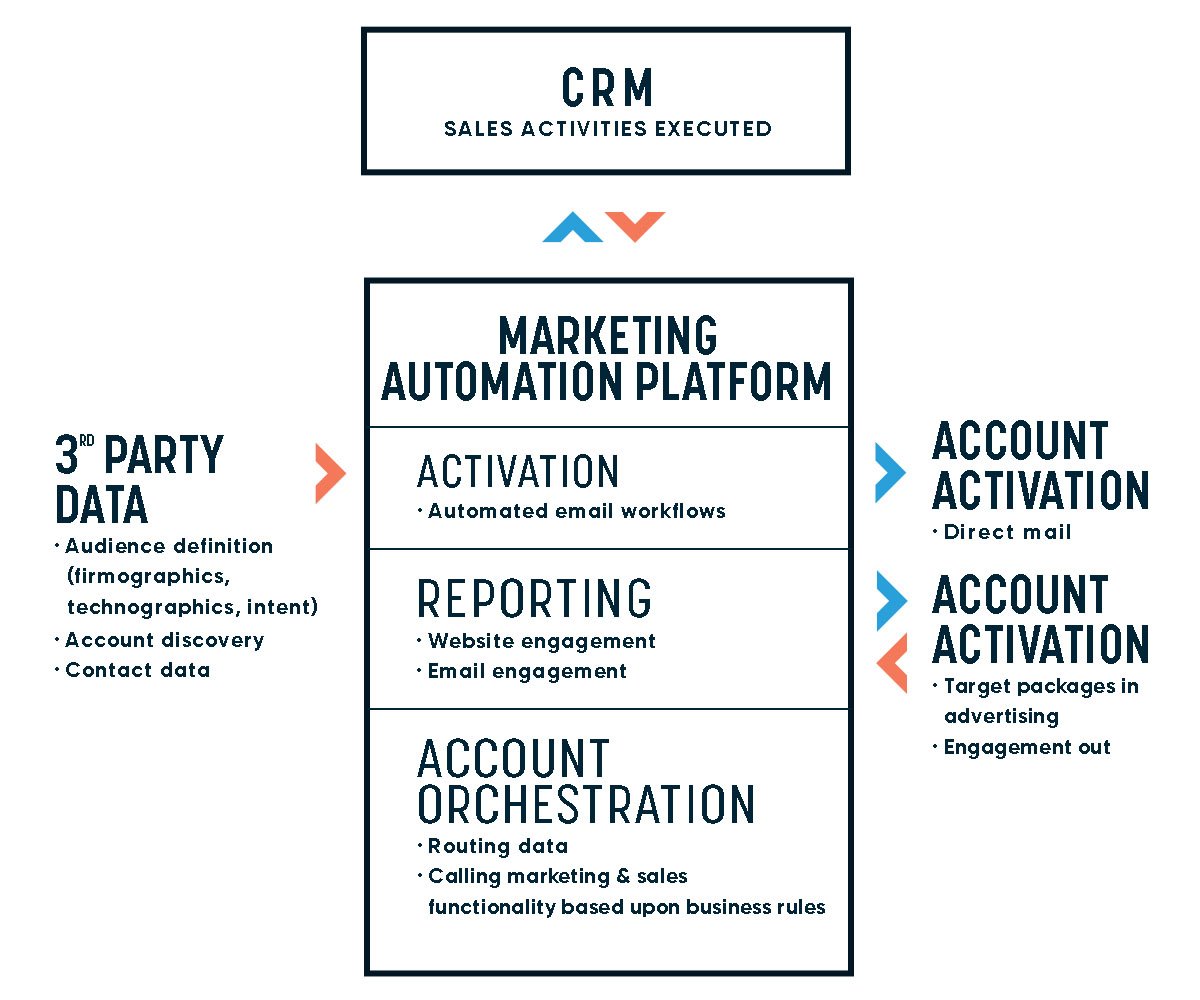 1. Marketing Automation Platform (MAP)
At the heart of your ABM tech stack is your Marketing Automation Platform (MAP):
The MAP acts as the repository of truth. It holds your account list, your contacts and all of the data accumulated about them as you run your activities.
It also acts as the "brain" of the operation and does a fair amount of the heavy lifting when it comes to running ABM activities as well as orchestration of various ABM-focused integrations.
The MAP is essential because everything else in your ABM campaign revolves around it – and makes your life easier as a marketer. Setting it up correctly for full optimization takes time up front, but it will be worth it.
Within your MAP, you can direct behaviors, both automated and by people connected to the system using things like workflows (referring specifically to HubSpot abilities here) to make decisions on what happens with respect to contacts at specific companies based upon things like their lifecycle stage or level of engagement in your activities or marketing assets.
In addition to operating your email campaigns, your social media, and your website analytics, your MAP may "call" other integrated tools to do things like action a pre-designed direct-mailer, add a company to a display advertising campaign or signal a Sales Rep that an account warrants special attention.
Your MAP will one day "call" your 3rd Party Data company and bring in new contacts or enrich existing contacts based upon some set of conditions.
You can learn how HubSpot calls BrandGen.io here to see how this works.
2. Customer Relationship Manager (CRM)
The customer relationship manager (CRM) has replaced the rolodex and enables sales teams to flourish.
The CRM is the repository for customer and prospect data, including contact information, company information, and role in the buying process.
A CRM should connect business processes and streamline the connection between activities happening within marketing and sales teams.
The CRM is where your sales team lives. In order to get to sales & marketing alignment, you'll need a solid integration between your MAP and your CRM. Important information such as new contacts and their source and engagement can be ported to your CRM for use by sales. It's also now possible for sales to activate activities back to your MAP, particularly with HubSpot since they're the same tool! Using an integrated MAP and CRM like HubSpot can make this work far easier.
Information should flow freely between your tech stack to make ABM campaigns run smoothly.
MAP solutions have evolved from closed-off SaaS applications to Platforms as a Service (or PaaS) that have rich API connections allowing you to build an ABM stack like the one shown above.
3. Activation Channels
Once you have your MAP and CRM in place and working seamlessly together, you can start putting your activation channels in place to carry out ABM campaigns. This is commonly called a part of Account Activation.
Channels vary based on your target audiences, so you need to understand your ideal client profiles (ICPs) in depth to know where they spend their time (online, we call these sites "digital watering holes"), and how to reach them effectively.
Some Account Activation activities such as marketing emails and social posting are typically managed by your MAP.
Targeted sales activities and things like bespoke events are typically managed by your CRM.
For Account Activation activities like targeted advertising and targeted direct mail, you'll often use an integration.
4. Data Channels
In some cases, Account Discovery can be accomplished by asking your CEO or VP of Sales, "What's a short list of your ideal future customers?" There are some industries where that's literally already known, and not a long list. In other cases, with a solid B2B buyer persona, you have the firmographic and technographic data that you need to go and buy lists of contacts at ideal fit customers and from this you derive your ideal target accounts. For a long list of companies, you may overlay your incoming data with intent signals that help you to prioritize a list of accounts into who you should approach now. Larger enterprise companies will sometimes automate Account Discovery by connecting an analytics tool to their CRM, and if customers are properly tagged, this tool will extract information and come back with a list of more companies and contacts that match your existing customer base.
Your Data Channel may also provide Contact Augmentation, by either filling out data on contacts that's currently missing or by providing you with more contacts at a Target Account.
The best ABM Activation campaigns should educate multiple buying roles within a company through a variety of channels and collect data along the way.
According to Harvard Business Review, "The number of people involved in B2B solutions purchases has climbed from an average of 5.4 two years ago to 6.8 today, and these stakeholders come from a lengthening roster of roles, functions, and geographies."
In the example campaign map above, we've included digital and traditional channels, but every campaign could be slightly different. Once you choose the channels, you'll need to make sure the tools are connected effectively, and information is being passed correctly without anything falling through the cracks.
Finally, it's important to think about where you're getting information in the first place. It's likely going to be a combined effort of sales discovery and marketing tools to gather information on ICPs and contacts within.
With the right tools in place, ABM becomes less daunting and allows you to focus on moving your strategies forward.
You know the basics of ABM, so you're ready to make it happen – and we're here to help.
Put ABM into practice with our eBook Demystifying Account-Based Marketing: Yes, You Can Make It Happen